Date: POSTPONED to June 30, 2018
Distance:  ~6km with 1km of Vertical
Pre-race Package Pickup: TBD
Race Day Package Pickup: 7:00am 
Race Day Registration: 7:00am
Race Starts:  First heat goes off between 8:30am and 9:00am
Start: At the base of the Sea to Sky Gondola
Finish: At the summit lodge of the Sea to Sky Gondola

Note: Race prices do NOT include your gondola download ticket
Be a part of the premier VERTICAL trail running race starting from the base of Squamish's new Sea to Sky Gondola this coming June. Challenge yourself to 6km of rugged trail with an ascent of almost 1km. The scenery and trails will take your breath away as you run high up into the thin mountain air and overlooking the waters of the Howe Sound. Enjoy the festivities as part of the inaugural Sea to Sky Scramble. We are excited to offer you the opportunity to run and race one of Canada's most beautiful and hidden gems.
Registration online opens Jan 1, 2018 by clicking the button below.
All race distances include a post race lunch ticket as well as a great aid finish line food table. Stay and enjoy with family and friends your great effort.
Map for the Sea to Sky Scramble Vertical Challenge
6k map – Downloadable PDF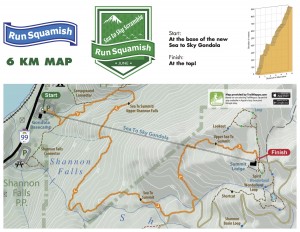 Clothing Drop:
Take advantage of the clothing drop.  Bring your warm-ups in a well marked and labeled bag to the race start morning of.  We will have your bag transported up to the top and available for you when you arrive.  Please note the race organization takes no responsibility for lost or stolen items.  Do not put valuables in your bag.
We had an incredible event at the Sea to Sky Scramble and are looking forward to hosting the event again in 2017. Please sign-up for our newsletter, follow us on twitter and Facebook to stay up to date about all our events in 2017.
Results:
All registrations are non-refundable. Please make sure that you look over the event details before registering.
Register Now!